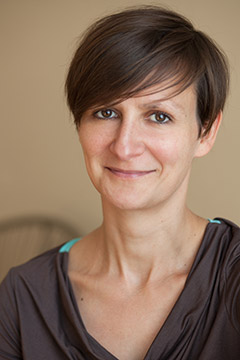 How powerful craniosacral body work can be, I experienced many years ago on my own body. For a long time I had been in pain until I was treated craniosacral therapeutic. The pain stopped and did not return. "I want to," I told myself.
At the time, I was in the training as a physiotherapist, which I completed in 1999. For nearly 13 years I worked in this profession with a focus on neurology. But I always kept the idea in mind to learn the techniques of craniosacral bodywork.
In 2008 I implemented it: I started an apprenticeship with Wolfgang Rühle. Since 2011 I have been certified in craniosacral bodywork.
At some point after completing the training, I enrolled in a postgraduate seminar on working with pregnant women, infants and children. By now I was a mother of two myself, and on my way to the seminary I thought of my own pregnancies, the births of my children, and the challenges of everyday family life. "Do not I need to distance myself from all this rather than integrate it into my work?" I asked myself. "What am I doing here?" As soon as the class started, I knew it: that's my topic. Fatigue, childbed depression, caring for the children - all this I experienced as a woman and a mother myself. This is exactly where I can help pregnant women, children and families with my work.
Since then, I have been training myself in working with pregnant women, infants and children. In recent years, I have seminars on prenatal experience and on the birth of Dr. Ing. med. Angelika Schultz, for the treatment of pregnant women and children with Dr. med. Joelle Aimée Toulouse and for the treatment of children and families visited by Joachim Lichtenberg.
»Set something in motion with hands and experience«
With my hands I offer the body time and space to move, to set something in motion and thus to find a balance - physically and emotionally. With my experience I support pregnant women, mothers, children and families in dealing with difficult situations. I still find this work powerful and energizing - even for me as a practitioner.
---
Training in craniosacral bodywork
---
23/5000
Further seminars
Helmut Kinon Baby- und Säuglingsarbeit
Dr. med. Angelika Schultz Vorgeburtliches Erleben und Geburt Craniosacral-Therapie in der Schwangerschaft
Der weibliche Zyklus – zwischen Physiologie und Intuition
Klaus Poschmann Säuglings- und Kinderbehandlung
Dr. Joelle Aimée Toulouse Behandlung von Schwangeren und Kindern
Joachim Lichtenberg Behandlung von Kindern und Familien
Cranio und Geburt
Wolfgang Rühle Craniosacrale Therapie und Hormonsystem